Cochrane Reviews cover a wide range of issues relating to good nutrition for children and adults and the collection were added to in June 2019 by a reviews dedicated to issues faced by young children living in urban slums in low- and middle-income countries. We asked the lead author, Sophie Goudet from the Centre for Global Health and Human Development at Loughborough University in the UK, to tell us about the need for the review and what it found.
UN-Habitat estimates that at least one billion people live in urban slums, which are places in cities without adequate access to health care, clean water, and sanitation. More than 90% of these slums are in low- and middle-income nations, with the residents usually living in poverty, with little food security. One consequence of an inadequate diet is that people will have very short stature for their age, called growth stunting. It's associated with greater susceptibility to infection, cognitive and behavioural problems, and lower adult work performance and earnings.
Nutritional interventions might be one way to prevent this, and our review is the first comprehensive and systematic assessment of the impact of these interventions on the growth of young children who live in urban slums.
We included 15 studies, involving more than 9000 children under five and approaching 4000 pregnant women. A range of interventions were tested, including maternal nutrition education, nutrient supplementation of mothers, infants, and children, such as adding zinc or iron, nutrition systems strengthening, and a combination of these. None of the studies modified the diet by providing additional food to families from locally available sources and allowing them to use it as they best saw fit.
We judged the scientific quality of the studies to be very low to moderate, which was mainly because they had not been designed to cope with problems linked to doing research in urban slum communities. These challenges include the amount of moving around that people do, making it difficult to keep supplying them with supplements or monitoring the height of the children.
On the basis of everything we found, we can conclude that there is no evidence of an effect of giving pregnant mothers zinc supplementation on the size of their newborns, it's not clear if nutrient supplementation increases the height of children, and the impact of interventions supporting nutrition activities within health services is uncertain. On a more positive note, educating mothers on good nutrition when they were pregnant did help to increase their baby's birth weight.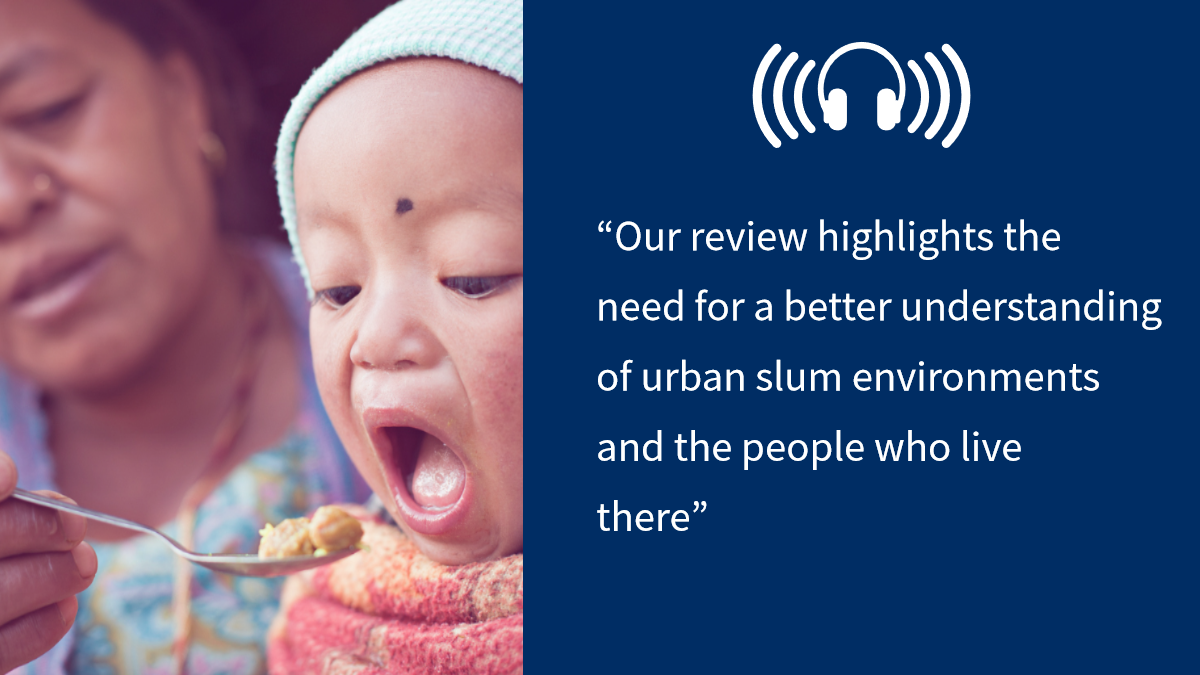 In summary, our review highlights the need for a better understanding of urban slum environments and the people who live there, not least because interventions we included have been shown to be successful in other settings. Good quality research is needed into the effects of multi-sectorial interventions, combining nutrition-specific and sensitive methods and programmes, as well as the effects of 'up-stream' practices and policies of governmental, non-governmental organisations, and the business sector to improve low birth weight and stunting in poor urban environments.
Thursday, October 10, 2019