'Let's talk e-cigarettes'' is a podcast talking about the latest research on e-cigarettes and how new research changes what we know about them. It's hosted by Cochrane Tobacco Addiction researchers Dr Jamie Hartmann-Boyce and Dr Nicola Lindson based at the University of Oxford, through funding from Cancer Research UK. You can listen to the podcast on iTunes, Spotify, or below.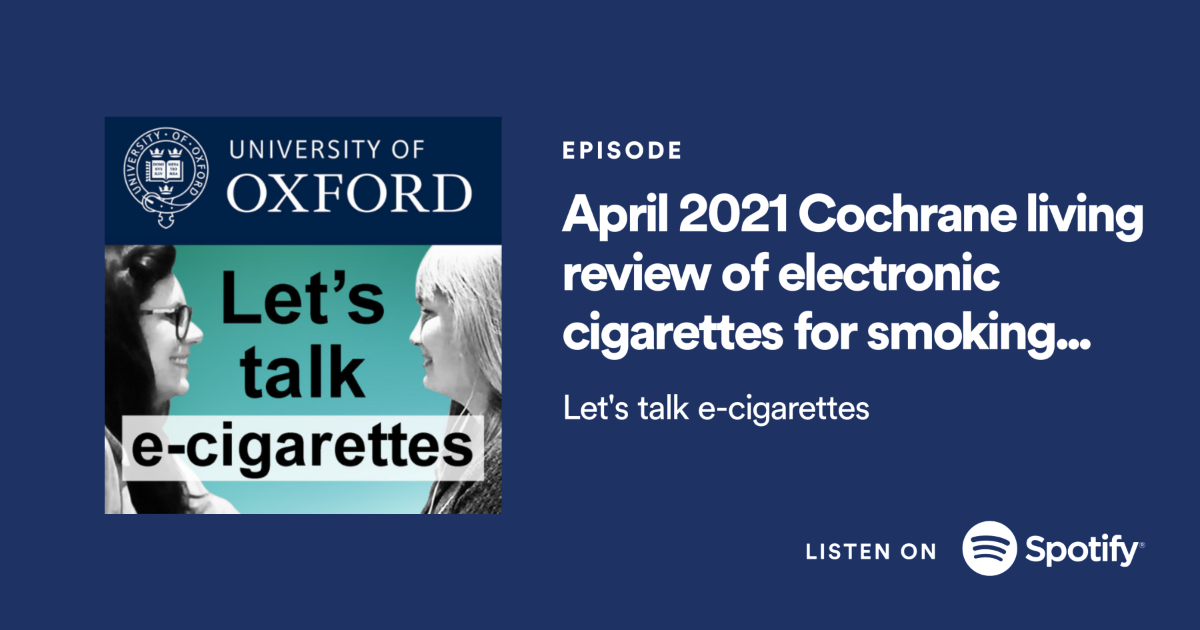 Jamie Hartmann-Boyce and Nicola Lindson discuss the April 2021 update to the Cochrane living review of electronic cigarettes for smoking cessation. This podcast is a companion to this Cochrane Review and shares the evidence from monthly searches and review findings.
In this episode Jamie Hartmann-Boyce and Nicola Lindson discuss the latest update to the review and respond to questions covering subjects, such as risk of bias, design of randomised control trials (RCTs), second hand vapour and sustainable cessation, put to them by listeners. This update includes six new studies that have been added since the 2020 version of the review and we are pleased to see the first inclusion of an RCT studying e-cigarette pod devices. There is still moderate certainty that nicotine containing e-cigarettes help more people to quit at 6 months or longer compared to e-cigarettes without nicotine or than NRT (nicotine replacement therapy). Uncertainty still exists around nicotine containing e-cigarettes compared to no intervention (eg continued smoking). This reflects that the quality of the evidence is considered very low according to Cochrane standards. In this update the low certainty evidence for no difference in adverse and serious adverse effects between nicotine e-cigarettes and non-nicotine e-cigarettes has been upgraded to moderate certainty evidence.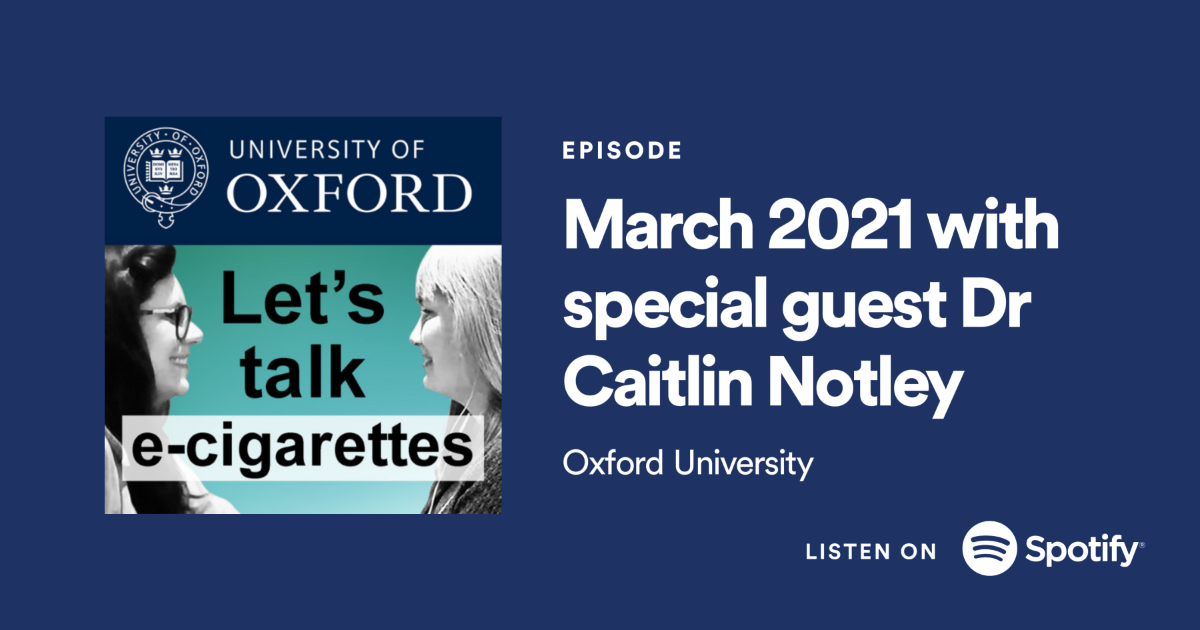 In the March episode Jamie Hartmann-Boyce interviews Dr Caitlin Notley from the Addiction Research Group at the University of East Anglia. The interview covers her qualitative research that centres on electronic cigarettes as a harm reduction tool, smoking cessation and relapse prevention in vulnerable populations. Dr Notley also discusses relapse prevention in pregnant and post-partum women and the role of social identity.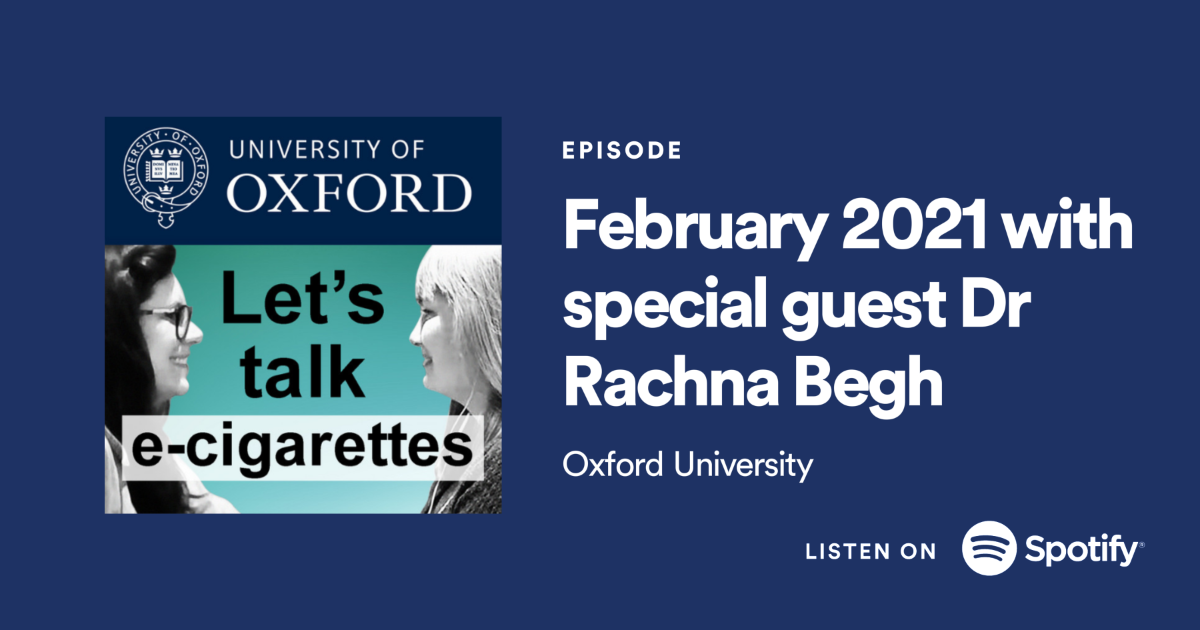 This podcast is a companion to the electronic cigarettes Cochrane living systematic review and shares the evidence from the monthly searches. In this episode Jamie Hartmann-Boyce and Nicola Lindson interview Dr Rachna Begh about the findings from her ongoing UK Management of Smoking in Primary Care, MaSC, study. This randomised controlled study explores the feasibility, acceptability effectiveness of general practitioner and nurse promotion of e-cigarettes versus standard care for smoking reduction and abstinence in people who smoke and who have smoking-related chronic diseases who are unwilling to stop smoking. Transcript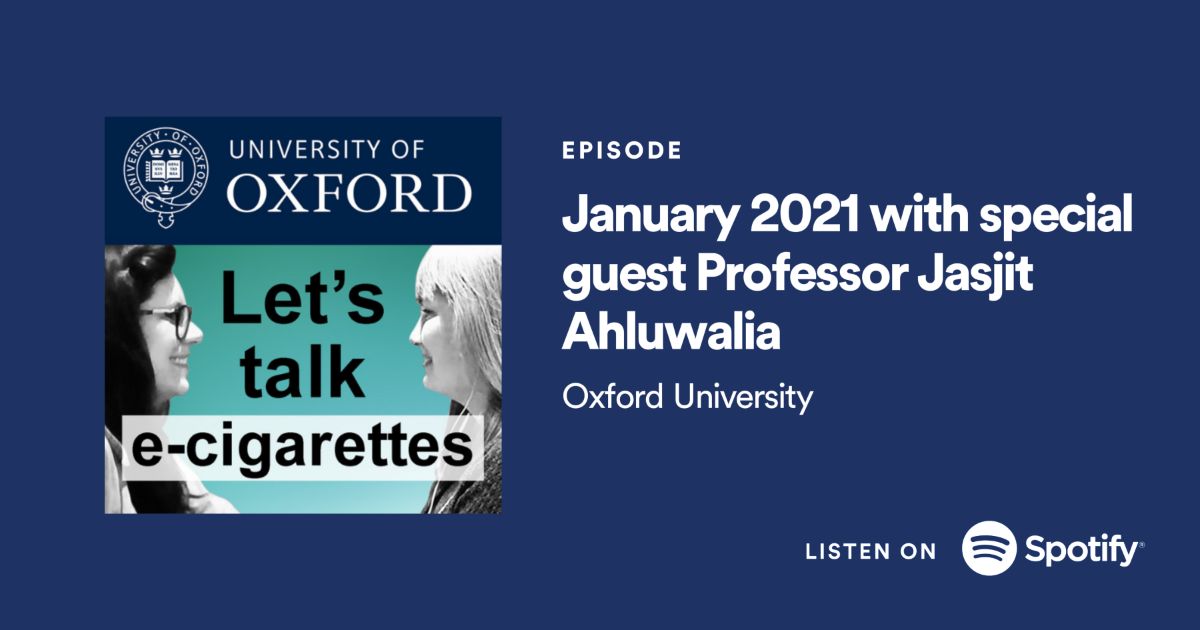 In this episode Jamie Hartmann-Boyce and Nicola Lindson interview Professor Jasjit Ahluwalia about his team's recent study on the effect of pod e-cigarettes vs cigarettes on carcinogen exposure among African American and Latinx smokers (Pulvers, 2020, see links to all studies in short description above). They also talk through three other studies: Schiebein et al, an exploratory non-randomized study of an e-cigarette intervention with people accessing a homeless supported temporary accommodation service; Orga-Hess et al's study which tested a method for evaluating the effects of e-cigarettes on quit-related motivation and behaviour; and a study by Yingst et al which explored the acceptability of electronic nicotine delivery systems (ENDS) among HIV positive smokers. Transcript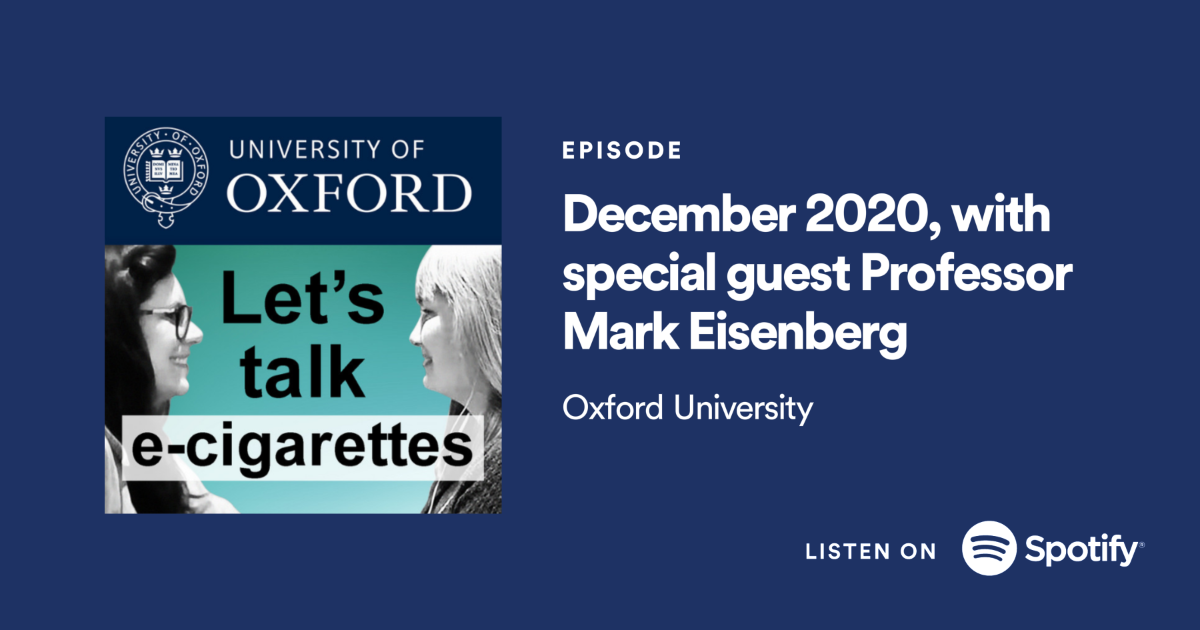 In this initial podcast, they discuss evidence from a Cochrane Living Review of e-cigarettes for smoking cessation, what they found in a recent search, and a deep-dive into one recent study with Professor Mark Eisenberg. Transcript