COVID-19: evidence challenges and lessons learned
Tuesday 20 October 2020
16:30-17:30 CET (check in your time zone)
Register for this webinar
Open to all
We are delighted to announce that as part of the inaugural World Evidence Based Healthcare Day on Tuesday 20 October, Cochrane will host an online session with Dr. John Grove, Director of the Quality Assurance, Norms and Standards Department within the World Health Organization (WHO) Science Division, and Dr. Lisa Bero, Cochrane's Senior Research Integrity Officer and Chief Scientist of the Center for Bioethics and Humanities, Professor of Medicine and Public Health, University of Colorado, Anschutz Medical Campus.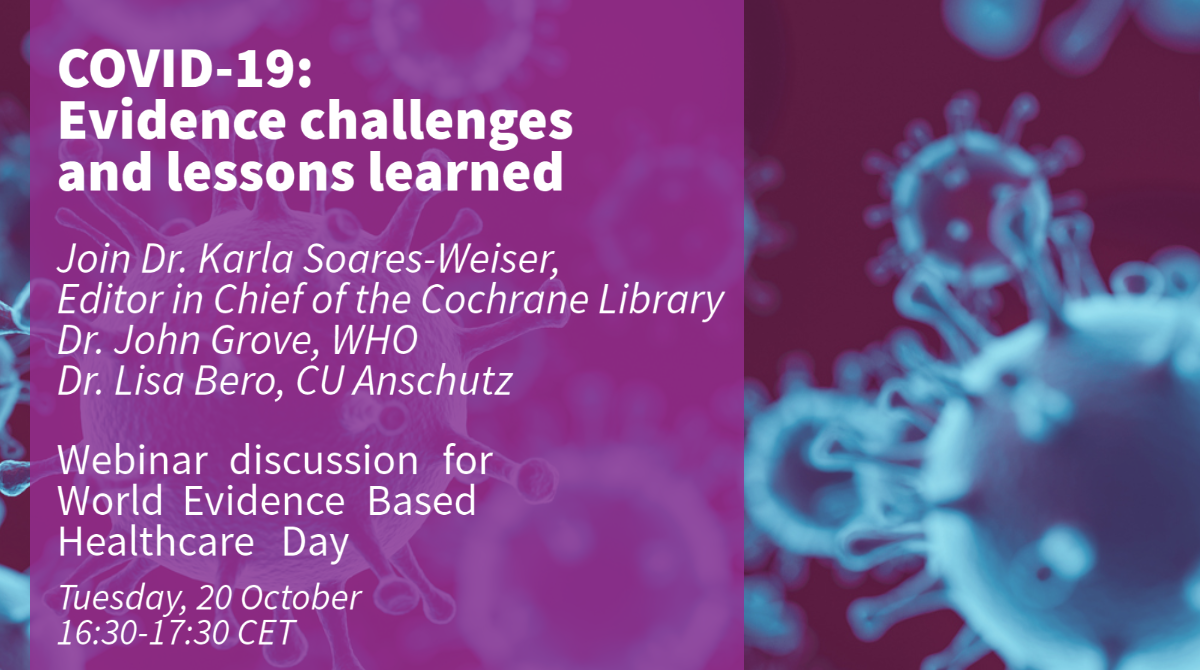 During the session, COVID-19: evidence challenges and lessons learned, Cochrane Editor in Chief Dr. Karla Soares-Weiser, Dr. Grove, and Dr. Bero will discuss WHO's evidence needs during the COVID-19 pandemic, Cochrane's response to support those needs, and to reflect on evidence priorities during the next phase of the pandemic.
Cochrane is a non-governmental organization (NGO) in official relations with WHO. During the COVID-19 pandemic, we have been working closely with WHO by producing rapid reviews to answer priority questions, thus supporting the development of effective guidance, treatments and cost-efficient responses to the pandemic. 
The session is open to all who are interested. To register, click here.