There are still a few places available - sign-up  here NOW! Deadline 30 July
Together with support from the Umbria Region Health Authority, Perugia, Italy, Cochrane's Neurological Sciences Field is organizing a four-day Summer School 10-13 September 2019.
The residential course targeted to young physicians and trainees interested in cerebrovascular diseases, aims to present, discuss and appraise key methodological issues encountered in clinical practice with examples in vascular neurology.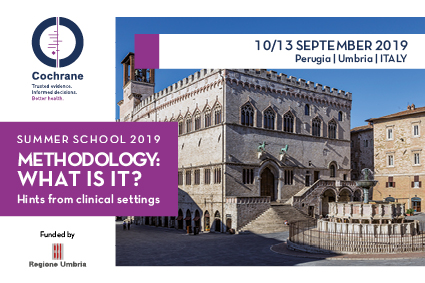 Participants will learn to what extent and how methodology sustains clinical practice and the decisions that can be made accordingly, using cerebrovascular diseases as an example.
Discussions on evidence-based medicine (EBM), elements of statistics, and what is needed to appraise evidence will be conducted so that participants will be encouraged to promote clinical EBM research and systematic reviews in their professional activity to manage uncertainty.
After successful completion of the course, participants will bridge the research-practice gap in a context of evidence-based education through:
 knowing when and how to screen for particular conditions;

having an understanding of how to appraise the evidence from trials and systematic reviews

knowing how to read a Cochrane Summary of Findings Table;

understanding useful elements about statistics;

knowing the current debate on the meaning and role of EBM.
If you are a practitioner, neurologist, healthcare worker, researcher, guideline developer or policy-makers who wants to get more involved in Cochrane methodology and stroke medicine, find out more information and register here: https://neurosciences.cochrane.org/summer-school-2019 or contact Kathryn Mahan, Coordinator, Cochrane Neurological Sciences Field, kmahan@regione.umbria.it