Today Cochrane and six global leaders in evidence-based healthcare, led by JBI, are launching a worldwide initiative to create awareness of the need for better evidence to inform healthcare policy, practice and decision making in order to improve health outcomes globally.
The inaugural World Evidence-based Healthcare (EBHC) Day will be held on 20 October 2020 and spotlights the global impact of EBHC on health research, policy, practice and patient outcomes.
In 2020, EBHC is a worldwide movement with hundreds of organisations and tens of thousands of individuals working tirelessly towards improving the science and practice of EBHC for the same aim: to improve health outcomes. 
"World EBHC day is an opportunity for collaboration in the ever-evolving sphere of global health and will provide a platform to discuss and debate the challenges and innovations in evidence-informed approaches to improving health outcomes globally" says Bianca Pilla, World EBHC Day Committee Chair.
The need and demand for EBHC continues to grow rapidly due to increased availability of digital information, better informed patients, introduction of new technologies, increased healthcare costs, complex adaptive health systems and ageing populations. At the same time researchers, policymakers and health professionals continue to grapple with the 17-year research-to-practice gap of implementing clinical research evidence into practice. 
"As a global evidence community, we are working together to close this gap and overcome barriers to advance the use of reliable research evidence to address some of the world's most serious health challenges," said Bianca Pilla. 
In 2020, the importance of having the ability to utilise the best available evidence has been highlighted by the rapid implementation of effective hand washing and the correct use of PPE to help fight the spread of COVID-19. Around the world scientists are working together to develop vaccines, researchers have identified and shared hundreds of viral genome sequences, more than 200 clinical trials have been launched, and international evidence synthesis organisations are rapidly synthesising the emerging evidence to assist policymakers in making informed decisions.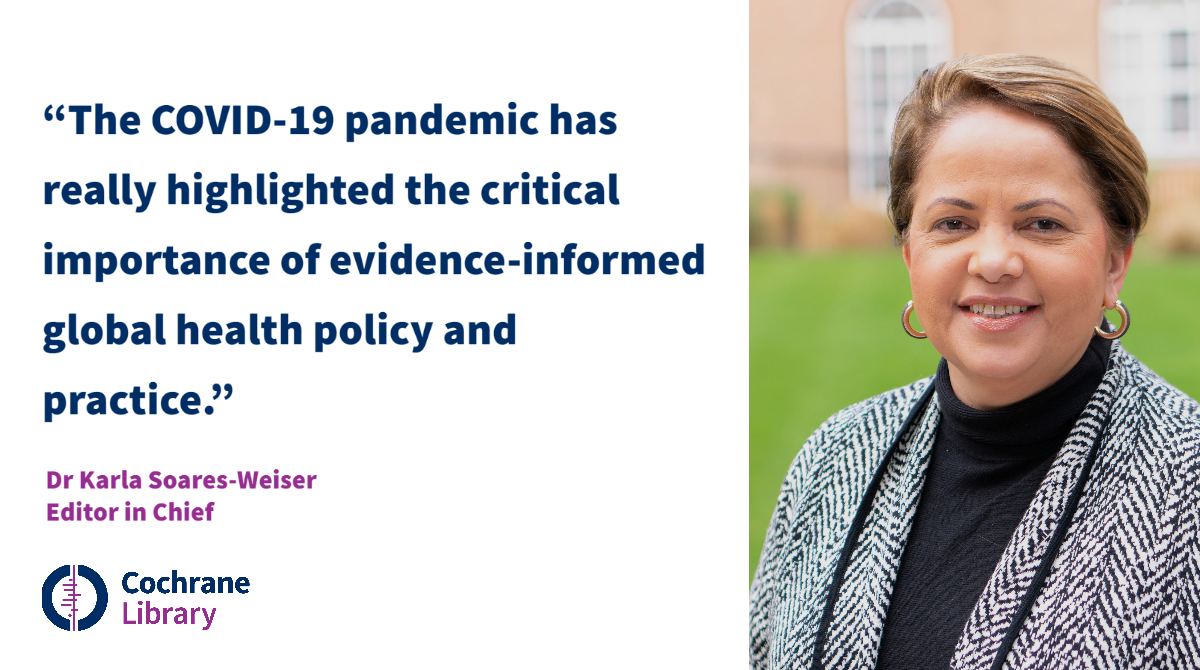 "Promoting evidence-informed decision-making is central to Cochrane's mission and future sustainability, and we are delighted to be coming together with the global evidence community to launch World EBHC Day to advocate for this vital issue.
"The COVID-19 pandemic has really highlighted the critical importance of evidence-informed global health policy and practice," said Karla Soares-Weiser, Cochrane Editor in Chief.
About World Evidence-Based Healthcare Day 2020
World Evidence-Based Healthcare (EBHC) Day is held on 20 October each year, starting in 2020. It is a global initiative that raises awareness of the need for better evidence to inform healthcare policy, practice and decision making in order to improve health outcomes globally. It is an opportunity to participate in debate about global trends and challenges, but also to celebrate the impact of individuals and organisations worldwide, recognising the work of dedicated researchers, policymakers and health professionals in improving health outcomes.
The theme for World EBHC Day 2020 is 'from evidence to impact', with a call to individuals and organisations worldwide to share their experiences of how their work in EBHC has contributed to impact in health research, policy, practice, guidelines or patient outcomes.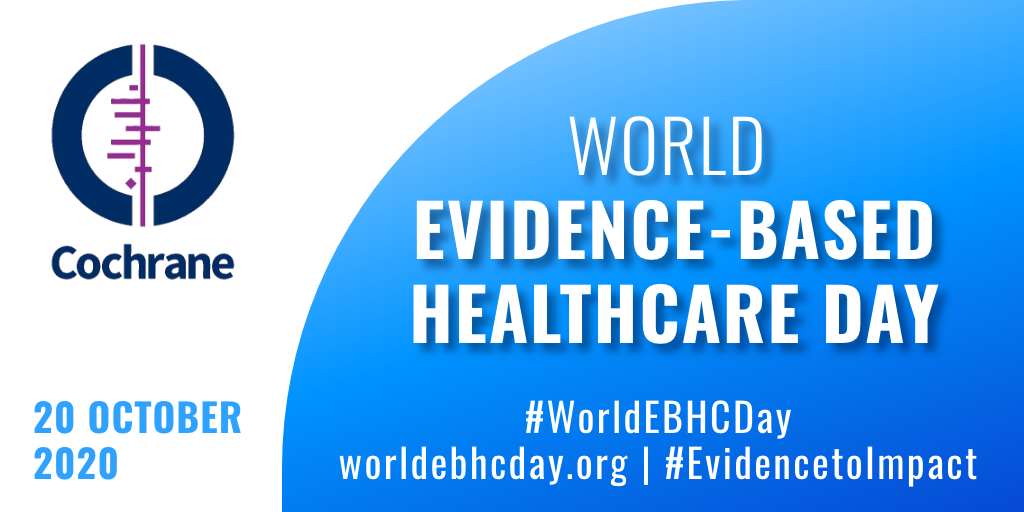 How you can get involved
Cochrane Crowd, Cochrane's citizen science platform, is a global community made up of volunteers who are helping to identify the research needed to support informed decision-making about healthcare treatments. Join the community on World EBHC Day for a special screening challenge - just log into Cochrane Crowd during the screening challenge time and follow the prompts!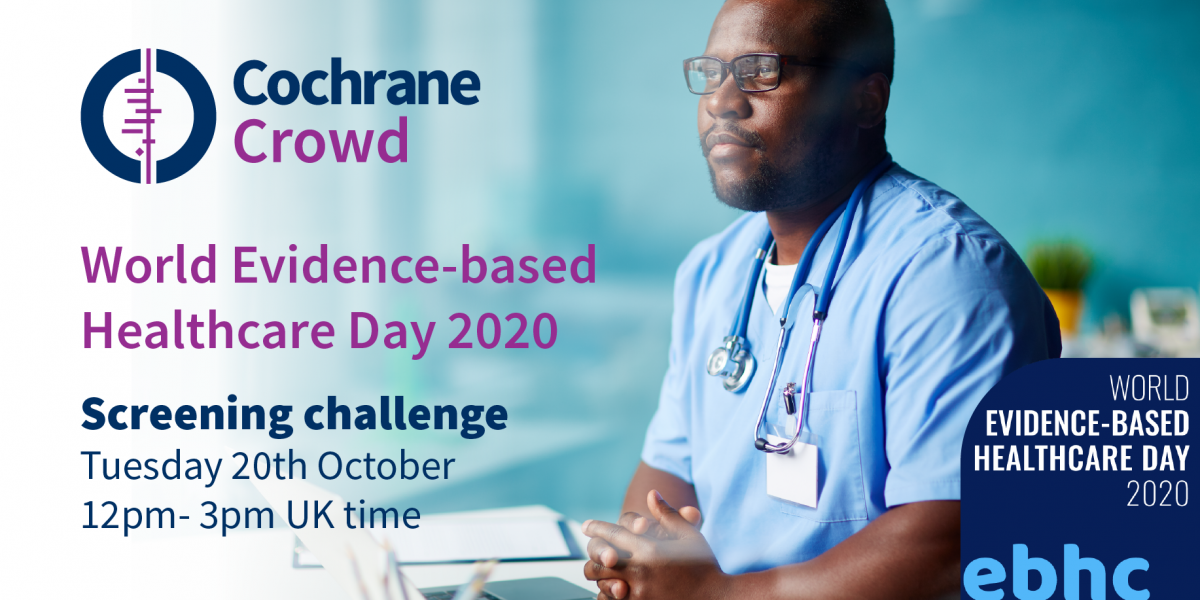 For more information, please visit: https://worldebhcday.org 
Thursday, September 24, 2020