Our policies
Policies for our members help our global community to understand their roles and responsibilities to the organization and their colleagues; and to ensure that Cochrane complies with the highest standards of governance.
All of Cochrane's policies and positions statements are published and publicly available on our Community website.
---
Open Access to Cochrane Reviews
Open Access (OA) is a concept about making online research outputs free of restrictions on access and free of many restrictions on use.
Since 2013, Cochrane is proud to have:
Provided free access to new and updated Cochrane Reviews for all readers worldwide 12 months after publication, under our 'green' Open Access scheme. Over 70% of all Cochrane Reviews are now available this way. All green Open Access Cochrane Reviews are available in the Cochrane Library and deposited in PubMed Central.
Provided Cochrane author teams with the option to pay an Article Publication Charge to make their new and updated reviews freely available worldwide on publication, and to take up other benefits of a Creative Commons licence, via a 'gold' Open Access option. Gold open access articles will normally be deposited automatically in PubMed Central, and other repositories as determined by funder mandates.
Made all Abstracts and Protocols free to access immediately upon publication, as well as Plain Language Summaries, which describe the findings from reviews in everyday language.
We have several access programmes, including national provision funded access which enables all residents of a country to gain immediate access to the Cochrane Library as well as  philanthropic access which together cover over 100 countries and over 3.66 billion people.
We're also thinking about the wider definition of accessibility and are making significant investments in improving the design and usability of our evidence for health decision-making. Find out more about our Knowledge Translation work, here.
Nevertheless, we want to do more. By 2025, our ambition is to achieve universal Open Access to Cochrane Reviews immediately upon publication for both new and updated reviews.
For more information on access options to the Cochrane Library, please visit cochranelibrary.com.
Click to see the map of access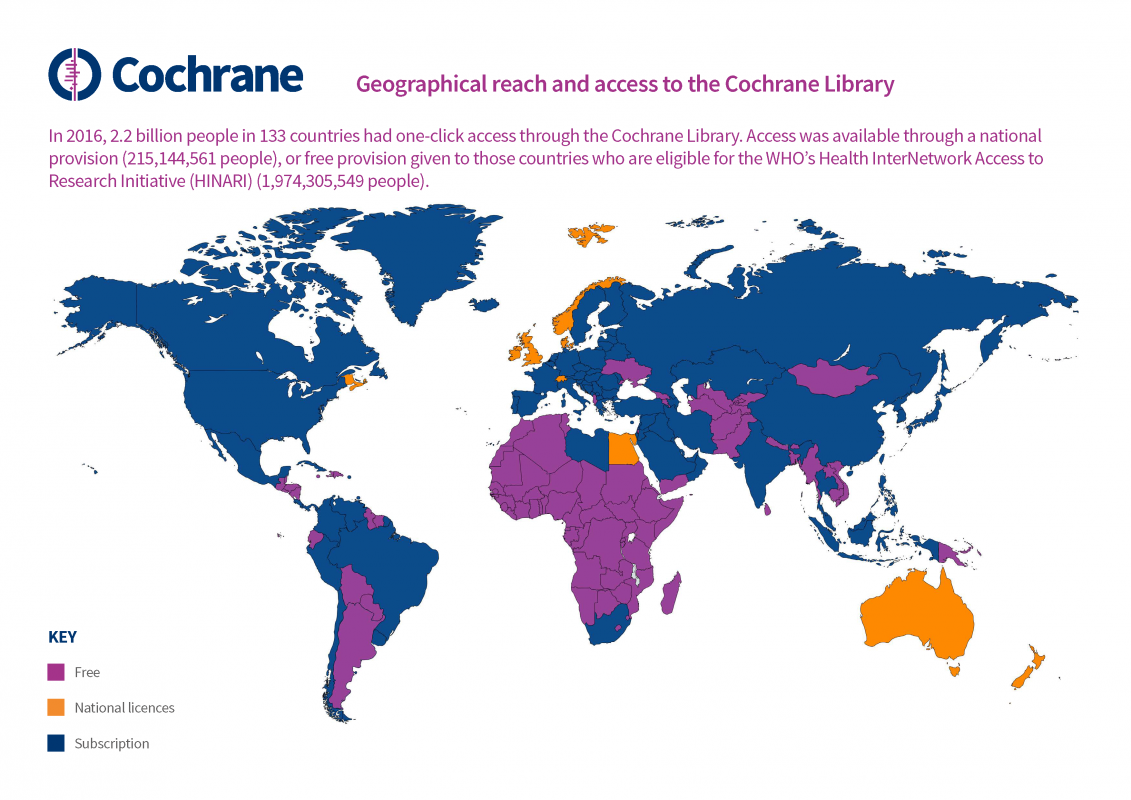 Close
Conflict of Interest
Cochrane's work is internationally recognized as the benchmark for high-quality information about the effectiveness of health care. We strive to maintain our reputation for independence and credibility through the core values of transparency and research integrity which include, among other things, minimizing the effects that conflicts of interest (CoI) could have on our research and our organization. We do this by adhering to rigorous policies about conflicts of interest. Our CoI policy is a strong one, not only requiring interests to be declared, but also mandating that some conflicts will prevent people from contributing to Cochrane Reviews.
For more information on Cochrane's Conflict of Interest policy, please visit Cochrane Training.